President Akufo-Addo greeting Reverend Joyce Aryee, Archbishop Nicholas Duncan-Williams of Action Chapel International, Finance Minister Ken Ofori Attah and Bishop Justice Akrofi
President Akufo-Addo yesterday hosted the clergy at a breakfast meeting at the Jubilee House to discuss issues affecting the church and nation in general.
Present at the event were Archbishop Nicholas Duncan Williams of the Action Chapel, Bishop Agyin Asare of Perez Chapel, Bishop Gideon Titi Ofei of the Pleasant Place Church, Prophet Owusu Bempah of the Glorious Words Power Ministry, Archbishop Charles Palmer-Buckle, the Metropolitan Archbishop of Cape Coast, Reverend Joyce Aryee of the Salt and Light Ministry, Bishop Awotwe Pratt, outgoing Residing Bishop of the Methodist Church of Ghana, Rev. Dr Samuel Asante-Antwi, former Presiding Bishop of the Methodist Church, Rev. Dr Justice Akrofi, retired Archbishop of the Anglican Church, Reverend Clement Anchebah of the Fountain Gates Chapel, Sheikh Aremeyaw Shaibu, Evangelist Lawrence Tetteh, among others.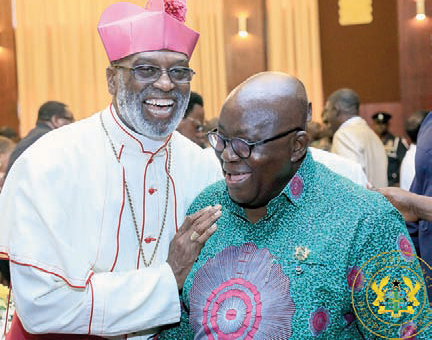 President Akufo-Addo in a hearty chat with Archbishop Charles Gabriel Palmer-Buckle at yesterday's parley
The Chief Imam, who was conspicuously absent at the event, was ably represented.
Vice-President Dr Mahamudu Bawumia and other senior government officials were also present at the parley.
In his initial comments before going into the closed door meeting, the president recalled an earlier meeting he had with them to decide on Ghana's position on the issue of Jerusalem.
He said: "At the time, I felt that that particular issue was a good way of us getting together. But I also felt that on a periodic basis it will be good for me to meet with you so that we can also deal with matters that are of concern to you and matters that are of concern to me as the head of government."
He, therefore, expressed hope that the meeting would be a regular feature of the government in the year for them to jaw-jaw about the things that affect them and the country.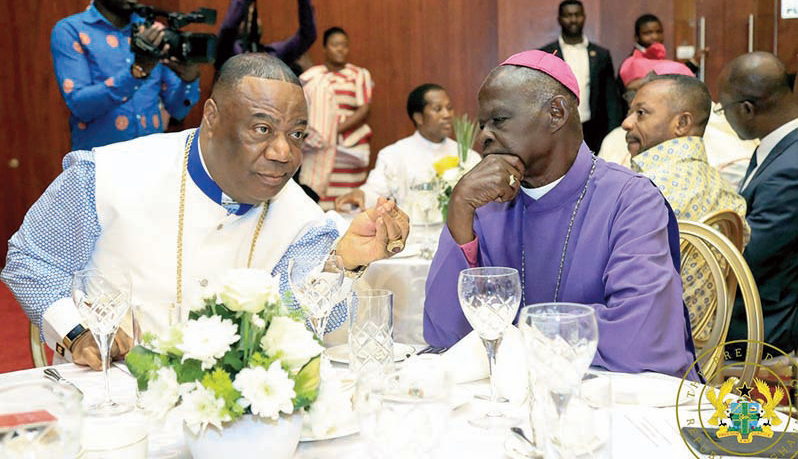 Archbishop Nicholas Duncan-Williams with Rev Dr Smauel Asante-Antwi at the event
"It doesn't mean we agree on everything, but it means we have an attitude of cooperation," the president said.
"We have an opportunity and I will hear your considerations and you will also hear the things that are on the hearts and minds of government because it's important that from the different angles from which we approach the public interest, we work together," he said.
That, he said, does not mean we must all agree on everything that is discussed at such meetings but rather an attitude of cooperation; an attitude which is that we can jaw-jaw; we can talk about matters and we will try and find a way that together, collectively, we address the public welfare of our people."
Some of the issues discussed were free Senior High School and the upcoming double-track system which they all accepted in the interest of equity, among others.
Interestingly, discussions on the controversial 5000-seater cathedral were shelved, DAILY GUIDE learnt.
Churches To Pay Tax
Religious bodies in the country have accepted the payment of taxes on all activities and operations that bring them incomes.
It follows the raging debate over whether or not religious bodies should be made to pay taxes.
Speaking in an interview after a breakfast meeting, Reverend Dr Michael Boadi Nyamekye of the Makers House Chapel revealed that "the consensus is that no church opposes the view of the churches being taxed."
Instead, he noted that "it's just the manner in which things are done that we raised some concerns; our thoughts being that there should be continuous engagement, there should be a regulatory body so that it's seen that it's the government that wants to do that."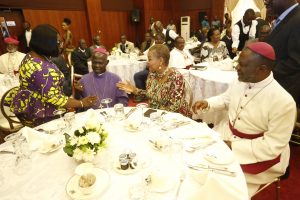 Chief of Staff greeting Rev Asante Antwi, Rev Joyce Aryee and Bishop Justice Akrofi yesterday
Sheikh Aremeyaw said "if there are Muslim NGOs or organisations that are engaging in private things and ventures that are intended to make profit, why not? They must pay their taxes; we build the nation by tax so whatever project the country will do, it comes more from the taxes that we have."
"Probably charity things that are coming from within are non taxable things, but I believe that in principle if a religious body is engaging in a private venture for profit, that body must be taxed," he emphasised.
Second Vice Chairman of the National Association of Charismatic and Christian Churches (NACCC), Reverend Dr Victor Osei said in the next couple of months or weeks, some kind of chart will come out which will sort of regulate the church, including religious bodies."
"Churches are already paying taxes as individuals on salaries, and churches also pay taxes on businesses that they set up; so now it must be much more of a permanent issue in the context of the fact that everybody is made to do what is already there. With the regulatory body being set up, everybody will be compelled to do what is right," he noted.
By Charles Takyi-Boadu, Presidential Correspondent