Ebony
The death of popular Ghanaian female dancehall artiste, Ebony Reigns, has plunged the entire country into mourning, with many still expressing shock and shedding tears.
Ebony, 20, died in a car accident on Thursday, February 8, 2018 together with two others, Francisca Kuri, her childhood friend, and Francis Atsu Vondee of the Ghana Air Force, believed to be her bodyguard.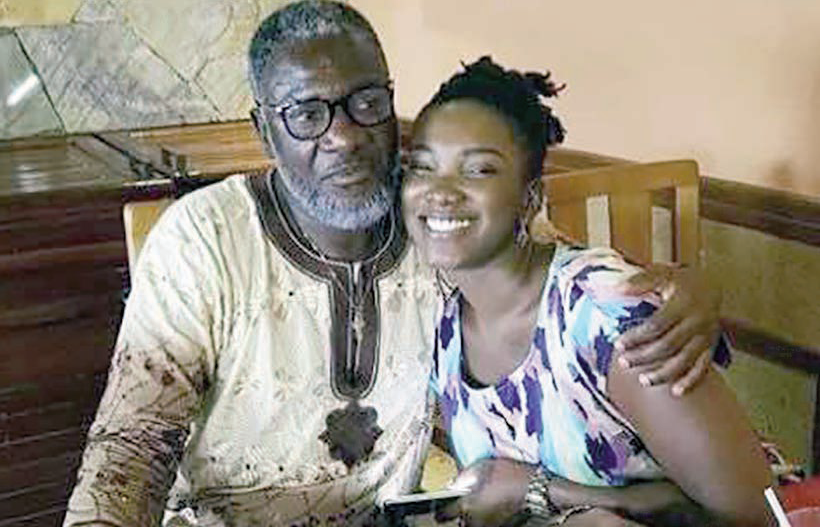 Ebony and dad
They were coming to Accra from Abesim, near Sunyani in the Brong-Ahafo Region, where they had gone to visit Ebony's mother, Madam Elizabeth Oppong, who recently returned from the UK.
A black Jeep with registration number AS 497-16 they were travelling in reportedly collided with a VIP bus travelling from Kumasi.
Ebony's driver was swerving a heap of sand that blocked his lane when the accident occurred. The driver who is the only survivor in the Jeep is currently responding to treatment at the Bechem Government Hospital.
There is currently a huge public outcry for the arrest of the contractor who left the alleged heap of sand which blocked the road. Ace broadcaster Kwami Sefa Kayi is one of such people. He believes that the road contractor's negligence resulted in the loss of the talented songstress and her friend.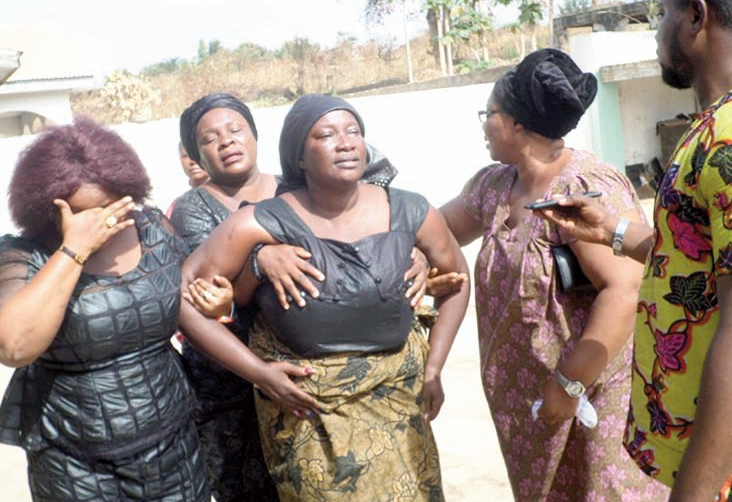 Ebony's mother (middle) being consoled as she wailed uncontrollably
"If, indeed, the road was under construction and they left a heap of sand there…then somebody must be made to pay for it," the host of Kokrokoo Morning Show on Peace FM said on Joy FM.
Since Friday, Ghanaians have been expressing shock over the sad deaths. Many took to various social media platforms to share in the pain of the families.
Radio and TV station dedicated their shows to Ebony. Some played her songs and videos throughout the weekend. Some pubs in the capital also played her songs throughout, an indication that she is really loved.
NEWS-ONE gathered that some persons, including some vehicle parts dealers at Abossey Okai, also staked lottos with the registration number of the Jeep in which the songstress and friends died in.
President Nana Akufo- Addo, who described Ebony as an extremely talented female artiste, said he is saddened by the deaths.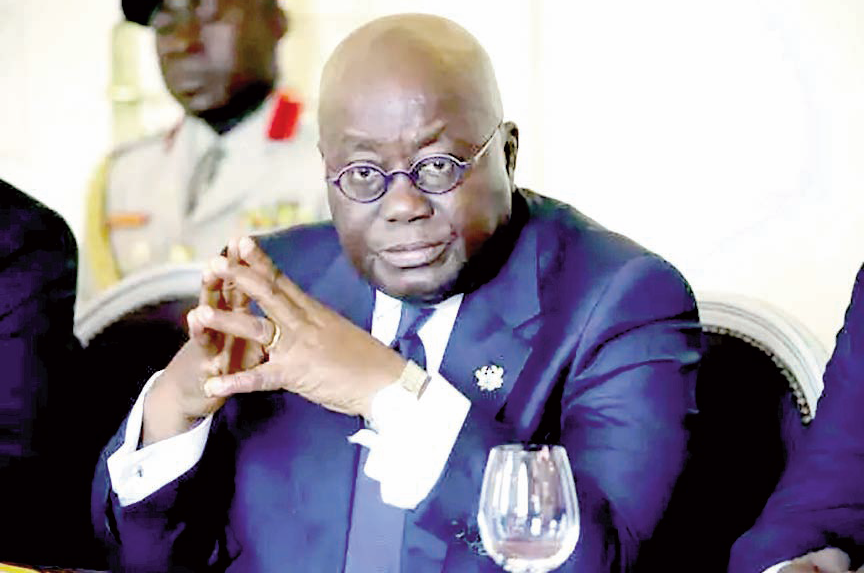 President Akufo-Addo
"Saddened by the news of the death the young but extremely talented female artiste, Priscilla Opoku-Kwarteng aka Ebony Reigns. By all accounts she had a promising music career. My deepest condolences to her family and to the families of the two others, who died in the tragic #RIPEbony," he said on Twitter on Friday.
Ebony's manager and CEO of Ruff Town Records/Midas Touch Inc, Bullet, who is known in real life as Ricky Nana Agyemang, in a press statement on Friday pleaded with the public to stop sharing gory pictures and videos of the lifeless bodies of Ebony and her friends.
"At this time of mourning, we will be grateful if the media and society as a whole will show respect to the family and desist from sharing the gory images all over their platforms and social media," his statement said.
There've been debates in various workplaces, homes, gyms and others places over prophesies made by some spiritual persons who saw Ebony's death earlier.
One Prophet Nigel Gaisie prophesied in November that Ebony will die through a road accident.
"The Lord opened my eye. That singer called Ebony, she has a short life. I saw her having a fatal lorry accident. That singer called Ebony; we are the prophets of the nation. Hear me and hear me. If she does not change her ways, it will come to pass. She will die like the way Suzzy Williams died when you expose yourself, you give out for evil spirits who don't have the license to come and infiltrate you," he reportedly said on November 24, 2017.
Popular sound engineer Kaywa also saw Ebony's death and advised her not to stop praying.
A WhatsApp conversation between Ebony and her management indicated she was aware of the prophecies.
In some of the WhatsApp chats put out by Bullet, Ebony didn't want to travel to Kumasi when she had a show there because of the prophecies.
Bullet, while posting the WhatsApp chats on Facebook, confirmed that his artiste and the team were aware of the prophecies and they followed the 'directions' given to them by Kaywa to avert the death. However, it unfortunately didn't change anything.
"I have seen videos and heard audios of some people and prophets after the death of my girl Ebony. Can people have a little heart and stop judging her. Kaywa saw this long time and did a lot of directions and prayers for us. I have chats with prophets who also saw this coming. We did what we could but God knows best!" he said on Facebook over the weekend.
A tweet by Nana Appiah Mensah, CEO of Zylofon Media, on Saturday suggesting that the late Ebony had shown interest in joining Zylofon Music is also receiving a lot of public reactions.
"We had a fruitful meeting and reached an agreement just last Tuesday. Please help me pay him for my bail out. I want to be free. I hope you're free now & finds absolute peace in the bosom of the almighty God. Let's pay CRITICAL ATTENTION to our female artistes," Nana Appiah tweeted.
But most Ghanaians on social media thought it was too early for him to come out with such comments.
In a tweet early Sunday to clarify his earlier statement, he said, "The earlier assertion has nothing to do with her record label and her manager. There's nothing wrong with committing to a contract and wanting to satisfy."
Mr Appiah Mensah further added that he will talk more about his posts this morning on Zylofon 102.1 FM.
Ebony's death is unfortunate and it happened at a time she was moving very fast in her music career. She died in similar accident as Terry Bonchaka, Suzzy Williams and Kwame Owusu-Ansah.