Visitors having fun at the Busua
There are different forms of tourism and community tourism is one of those, which has been the focus of tourism policymakers of developing countries, and also tourism stakeholders around the world.
Conceptual evolution of tourism has taught the world to be more focused and careful on the concept of sustainable tourism. Consequently, some emphasis is given on the concept of community based tourism – an offshoot of sustainable tourism; without which sustainability cannot be ensured.
In Ghana, the story is not different as stakeholders have also been giving some attention to community tourism. This gives tourists the opportunity to spend time according to their convenience, while experiencing the traditional life of the people. It also helps tourists to learn about the culture and enjoy the exuberant nature in these communities.
This week, NEWS-ONE brings to tourists who are in town or those yet to arrive some of the communities they may like to visit in Ghana for an amazing experience. Attention will be focused on Ghana's West Coast.
This is part of an initiative by the office of the Ministry of Tourism Arts & Culture to guide tourists to the best destinations in Ghana.
Butre
Butre has always been a delight for many tourists who visited the place. For those who are yet to visit, you will be welcome to a striking ruin of the 1656-constructed Fort Batenstein, situated on a hill, with its magnificent views of the surrounding village, coast, lagoon, rock formations, forest, fields and hills. Butre is a small fishing village located on a sheltered bay by a forest, between the communities of Busua and Asemkaw, about 20 kilometres southwest of Takoradi. Now home to nearly 400 inhabitants, largely from the Ahanta ethnic group, Butre was among the early historical towns generated by 17th century inter-European and inter-African conflict. The village has a Town Tourism Development Committee. In the village centre, there is a tourist information booth with able tour guides on hand to show visitors around and provide tourist information. Take a stroll through Butre village, observing the local culture, traditions and livelihood of the Ahanta people. Hike up the hill to the ruins of Fort Batenstein, to enjoy amazing 360 degree views of the village, coast, lagoon, rock formations, forest, fields and hills. The climb to the fort is steep and not for the faint-hearted. Paddle into the wild on a traditional dug-out canoe, on Butre Lagoon and River. Look out for wildlife species such as crocodiles, kingfishers, mudskippers and crabs.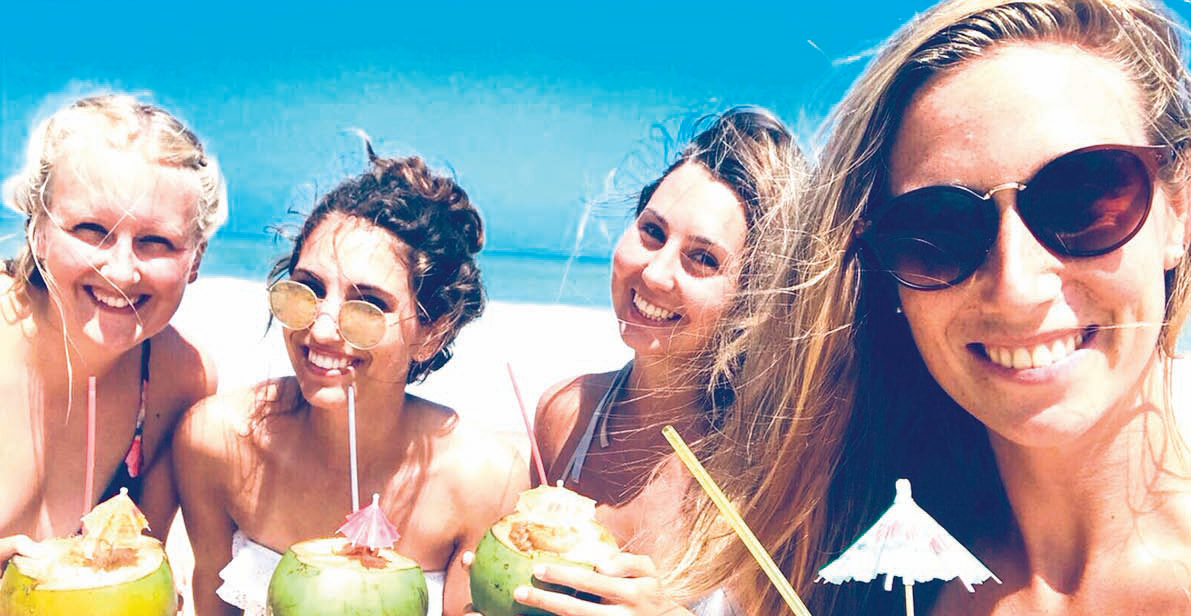 Some visitors at Butre
Nkroful 
Nkroful is a unique town with a lot of history and natural resources. It is the birthplace of Ghanaian first president, Osagyefo Dr. Kwame Nkrumah, where his memorial can also be found. It also houses some simple visitor facilities and a souvenir shop.
Located 83km west of Takoradi in the hinterland of Ghana West Coast, the area around Nkroful is full of natural resources such as oil palm, coconut palm, cocoa and gold. It also the home to  mystical River Subre and is close to three forest reserves – Draw River Forest Reserve, Ndumfri Forest Reserve and Shelter Forest Reserve. A tour of the community is always an exciting one.
Busua
This is a tourism town with a variety of attractions, including hotel accommodation, seafood restaurants and a long sandy beach that is ideal for swimming and water sports like surfing.
Busua has a different feel from the other towns and villages of Ghana by the coast because it is quite well developed.
Busua is also located some 30km from Takoradi and sandwiched between Butre and Dixcove. Its beach is not just clean but also one of the safest places along the Atlantic coast for water sports, and it seems to be one of the hotspots for surfing. Visit Busua for a thrilling experience.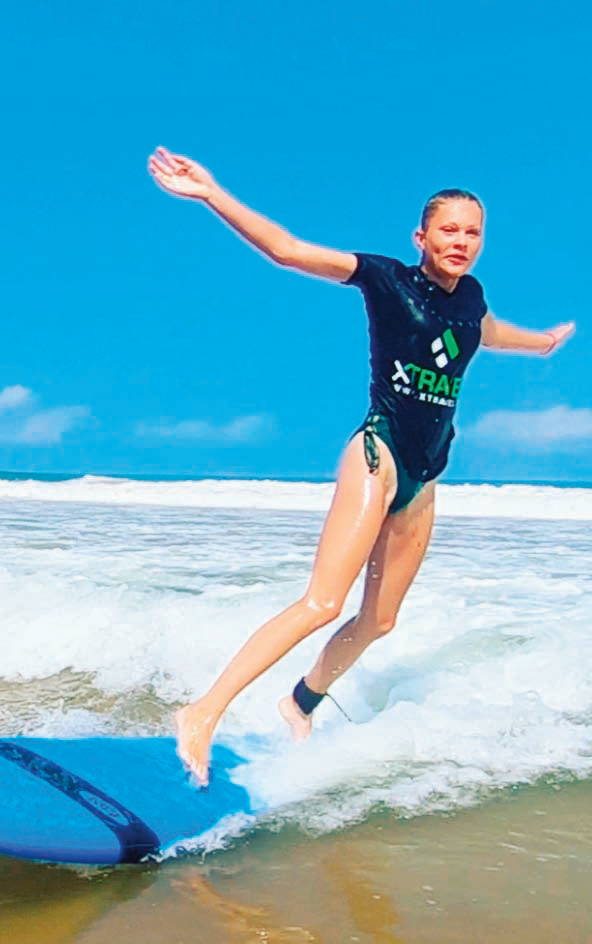 Its surfing time for this lady at Busua
Cape Three Points 
Cape Three Points is one of the communities that tourists should not miss in their visitations to Ghana.
It is the southernmost tip of Ghana and has a lot to offer tourists. History has it that a man by name Nana Akye-Kese I, who migrated from Tondu, a village near Ahuntumano in the Ahanta West District, was the first to reside in the town.
He was a hunter and in one of his hunting escapades, he got to the coast of Cape Three Points and was very pleased with the scene and decided to settle there.
The village of Cape Three Points has one of the most beautiful beaches along Ghana's West Coast. Surrounded by Ghana's only coastal rainforest reserve and many rolling hills, the village also has a few secondary attractions such as relaxation, beach and sea activities, hiking and exploration of its cultural present and colonial past. The drive to Cape Three Points takes visitors through several rural communities, oil palm plantations and an extensive rubber plantation which was originally planted by Osagyefo Dr. Kwame Nkrumah some fifty years ago. You will view at first-hand how fresh rubber is collected from the rubber trees before being part-processed in Ghana and shipped to Europe. Between the views of crop farms and rubber plantations, you might have a bit of luck and run into a group of monkeys and more.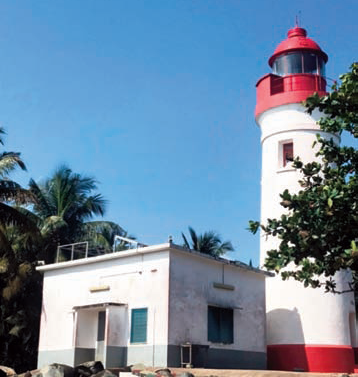 The lighthouse at Cape Three Points
Akwidaa
Akwidaa is also small town and fishing village in Ahanta West District, a district in the Western Region of south-west Ghana, and is one of the southernmost places in Ghana just as the Cape Three Points.
Visitors to Akwidaa have easy access to pristine beaches, lush greenery, wildlife, river activities and rich local culture due to its proximity to the Atlantic Ocean, Cape Three Points Forest Reserve, oil palm plantations, rubber plantations and mangroves. Every September, the people in the community celebrate the Kundum Festival, which is a week-long annual harvest festival. During the festival, many different foods (mainly corn and cassava based) are prepared in homes. Kundum is a time of reconciliation and announcing bumper harvest, and it is characterised by drumming and dancing. It's a great experience to be part of.
Miamia 
Miamia is another must visit community in Western Region of Ghana. It is located 15 km off the Takoradi-Elubo main road and has a town tourism development committee and several trained local tour guides to assist tourists who visit the town. The community has great attractions like beautiful, safe and secluded beaches, and a crocodile pond at the neighbouring village of Egyambra.
Nestled in a deep bay with rocky coves, Miamia is bordered by a series of rounded hills covered with palm trees and cassava farms and the Atlantic Ocean. Although Miamia's unquestionable beauty has attracted the development of luxury private villas, second homes and countryside rest houses to the area, there is still ample space for visitors.
Princess Town 
Princess Town is located five kilometers east of Fort St. Antonio on Manfro Hill in the Ahanta West District of the Western Region of south Ghana. It lies between Axim to the west and Sekondi-Takoradi to the east. It is sometimes described as one of the fringe communities of Cape Three Points Forest Reserve.
Also known as 'Prince's Town' and by its local name 'Pokesu' or 'Bokaso', is best known as the site of the elegant Brandenburg-built Fort Gross Friedrichsburg, constructed in 1683. The once-ruined Fort Gross Friedrichsburg has been partially restored, and it now serves as a tourist attraction and a rest house.
Princess Town has one of the most beautiful beaches in Ghana. Although its clean, pristine beach has won national acclaim, it remains largely undisturbed and very relaxing since it is off the beaten track.  Between July and February, you may catch a glimpse of whales or dolphins. Visit Princess Town for more scenic views and more. Also visit Dixcove, Axim and some of the best other communities with a lot of attractions in Ghana's West Coast.