"What a life?
But I asked for it
What sometimes bothers me is what I cause you to bear in consequence,
I pray that victory and some good may come with all of these to compensate for all your sacrifices and burdens.
I pray you may be given strength of mind and body and spirit from above.
It is my faith justified repeatedly by events that when God sets us tasks he gives us all we need to fulfill them.
So there is a lot for which we can be glad and thankful."
EXCERPTS FROM A LETTER TO HIS WIFE; MRS. NAA MORKOR BUSIA; POSTED FROM HOTEL CONTINENTAL LUXEMBOURG JUNE 7, 1964:
"Do you know that day you saw me at the meeting. I had been weeping bitterly. I am sure he heard me.
I woke up very early at 2am; I usually do that when I am troubled. I started to pray. I knelt down for about 4 hours and when I thought I had done enough, I suddenly started weeping; unintentionally though. That very morning, I was told that Dr. Busia was coming to speak to us. I came to the lecture and lo, there was a 'gift' from God".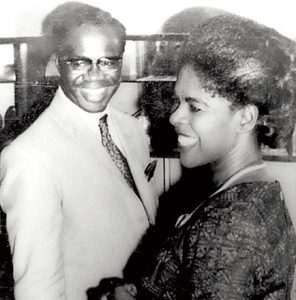 Dr KA Busia and wife
LETTER FROM NAA MORKOR TO KOFI BUSIA, 15/6/49, FROM COLONIAL HOSPITAL TARKWA, WHERE SHE WAS WORKING AS A MIDWIFE.
"I wouldn't have wanted anyone else to be my father. My memories of my father are great happiness and joy. He was kind to me, he did his best to help me develop as a human being"
KOFI BUSIA, FROM THE DOCUMENTARY, "THE PROF – A MAN REMEMBERED"
Shared stories from our lips like drops of communion wine
Time finds us still your children and we make fellowship
With fractured pieces of life passed like fragments of the water
So many pieces of one vision repeated in remembrance.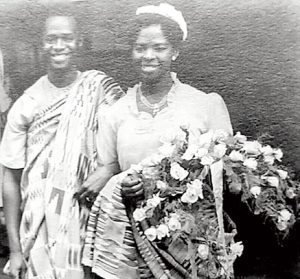 Dr KA Busia and wife, Naa Morkor
FROM "TESTIMONIES…,FOR FATHER" BY ABENA P.A. BUSIA, DAUGHTER
"Everything he wrote was from home, but put in a way that those people overseas would respect us and respect our wisdom.
He is talking about family and how people treat each other not just great people, and not just great things. But ordinary things; brother and brother, sister and sister, husband and wife, chief and people…If somebody can inspire us, that is a beautiful thing in life.
So what I would say is that, anybody here can be the inspiration for the next generation"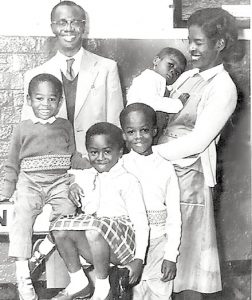 Dr KA Busia and his family
YAW BUSIA, FROM THE DOCUMENTARY, "THE PROF – A MAN REMEMBERED"
"I am ever grateful to have been fathered by you,
I know that following your footsteps will lead me to where you are in Spirit and in Truth.
As David, Solomon, Paul, I am inspired by your gifts; encouraged by your flaws. Great persons are those who give their all not because of their perfect selves, but despite their imperfections, passionately live for the betterment of humanity.
Thank you Papa, your life, your vision, your legacy, lives on.
Your own
Akosua"
FROM THE DOCUMENTARY, "THE PROF – A MAN REMEMBERED"